Ralph Jaccodine Interview - The Future of Artist Management
For all the upheaval that the music business has experienced in the past 15 years, the work and priorities of the artist manager haven't changed that much. "I remember I saw David Byrne speak about the Internet," veteran artist manager Ralph Jaccodine recalls, "and he said that the fact that it's a level playing field doesn't mean anything."
Even though the landscape may have changed, managers remain responsible for two things: hustling up business opportunities for their clients, and exploring ways to augment, supplement and realize those clients' creative visions.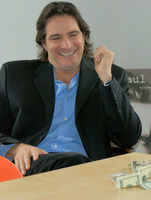 In that sense, the panel that Jaccodine is moderating on Tuesday, Artists and Managers – Our Perspective, is less about looking into the future and more about comparing notes on the present. The strategies and outlook of a panelist like Bertis Downs, who represents REM, are likely to differ considerably from those of Fenway Recordings' Mark Kates, who represents bands ranging from MGMT to Bodega Girls.
We grabbed a few minutes of Jaccodine's time to discuss his upcoming panel, and here's what happened....
You can read Ralph's complete interview with We All Make Music via the link below