MBJ Cut Time: Episode 1 - Interview with Ralph Jaccodine
Friday, March 8, 2019
Berklee College of Music's 'Music Business Journal' Podcast.

Exclusive interview with industry professional and Berklee professor Ralph Jaccodine discussing current industry management techniques and trends.
Artists as Activists
Thursday, September 27, 2018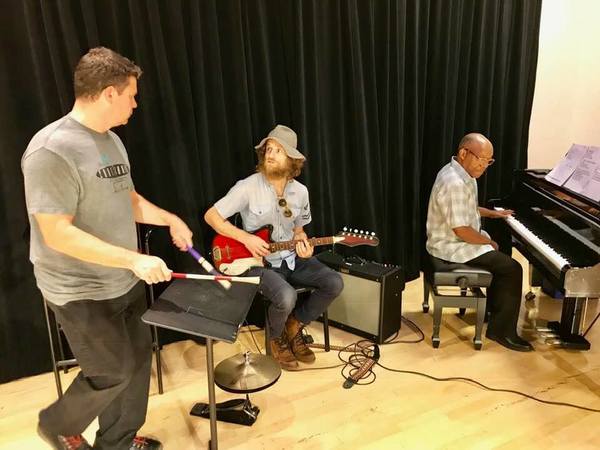 Cohosted by the Music Business/Management Department at Berklee College of Music and the Dance Division at Boston Conservatory at Berklee, this residency was designed to highlight artistic collaboration between musicians and dancers on themes of activism and using art as a platform for empowerment, political expression, social justice, and fighting oppression. During the residency, artist will offered master classes and clinics, working together to create a new work in real time, then demonstrated it in performance.
Artists as Activists featured Kemp Harris, singer-songwriter, actor, and educator; Christal Brown (Urban Bush Women and program chair of Dance at Middlebury College), choreographer, educator, performer, and writer; Vincent Thomas (Urban Bush Women BOLD facilitator), dancer, choreographer, and teacher; and Chad Stokes, cofounder of Calling All Crows, a nonprofit organization. The residency also featured Barry Lynn, American journalist and writer; and Jim Lucchese, former CEO of Echo Nest/Spotify.

It was made possible because of generous support from the AVK Foundation.
Missing From Your Job Description
Wednesday, April 25, 2018
If you're working in an office, here are some of the checklist items that might have been omitted:
Add energy to every conversation
Ask why
Find obsolete things on your task list and remove them
Treat customers better than they expect
Offer to help co-workers before they ask
Feed the plants
Leave things more organized than you found them
Invent a moment of silliness
Highlight good work from your peers
Find other great employees to join the team
Cut costs
Help invent a new product or service that people really want
Get smarter at your job through training or books
Encourage curiosity
Surface and highlight difficult decisions
Figure out what didn't work
Organize the bookshelf
Start a club
Tell a joke at no one's expense
Smile a lot.
Now that it's easier than ever to outsource a job to someone cheaper (or a robot) there needs to be a really good reason for someone to be in the office. Here's to finding several.
Live Nation Rules Music Ticketing, Some Say With Threats
Tuesday, April 24, 2018

In 2010, when the Justice Department allowed the two most dominant companies in the live music business — Live Nation and Ticketmaster — to merge, many greeted the news with dread.
Live Nation was already the world's biggest concert promoter. Ticketmaster had for years been the leading ticket provider. Critics warned that the merger would create an industry monolith, one capable of crippling competitors in the ticketing business.
Federal officials tried to reassure the skeptics. They pointed to a consent decree, or legal settlement, they had negotiated as part of the merger approval. Its terms were strict, they said: It would boost competition and block monopolistic behavior by the new, larger Live Nation.
"There will be enough air and sunlight in this space for strong competitors to take root, grow and thrive," said the country's top antitrust regulator, Assistant Attorney General Christine A. Varney. And she went further, suggesting that reduced ticket service fees, even lower ticket prices, might be on the horizon.
Mentoring for the Modern Musician Podcast
Friday, March 2, 2018
#34 Living legend Livingston Taylor LIVE @ Berklee College of Music
The Mentoring for the Modern Musician podcast, often featuring interviews with industry insiders who would never take your call, is designed to help cut the learning curve for musicians in and ever-changing music industry. Through in-depth topical discussions, the Scharff Brothers look to help musicians cultivate the skills necessary to forge a career as a creative artist. Pioneers in Virtual Artist Development, the Brothers steer each interview and conversation in an entertaining, informative, upbeat and completely original direction. In an ever-changing music industry, up to date and often cutting-edge information can make all the difference in a successful career. As the boys will tell you "You got this…We got your back."
In this episode of Mentoring for the Modern Musician the Scharff Brothers were privileged to sit down with living legend Livingston Taylor In front of a live audience of students and faculty from the Berklee College of Music!!!Livingston Taylor's career as a professional musician has spanned 50 years, encompassing performance, songwriting, and teaching. Described as "equal parts Mark Twain, college professor, and musical icon, Livingston maintains a performance schedule of more than a hundred shows a year, delighting audiences with his charm and vast repertoire of his 15 albums and popular classics. Livingston has written top-40 hits recorded by his brother James Taylor and has appeared with Joni Mitchell, Linda Ronstadt, Fleetwood Mac, and Jimmy Buffet. He is equally at home with a range of musical genres - folk, pop, gospel, jazz - and from upbeat storytelling and touching ballads to full orchestra performances. In addition to his performance schedule, Livingston is a full professor at Berklee College of Music, passing on the extensive knowledge gained from his long career on the road to the next generation of musicians.
Ways You Can Defeat Distractions and Win Your Day
Monday, April 23, 2018

"Distractions destroy action. If it's not moving towards your purpose, leave it alone."—Jermaine Riley
Almost everything around you is designed to steal your attention.
That's why it's essential to learn how to shield yourself and develop your ability to focus on command.
You will need to fight off five types of distractions, and below you will find different ways that will help you do exactly that.