Missing From Your Job Description
Wednesday, August 1, 2018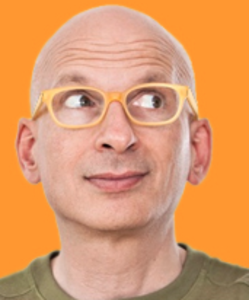 If you're working in an office, here are some of the checklist items that might have been omitted:
Add energy to every conversation
Ask why
Find obsolete things on your task list and remove them
Treat customers better than they expect
Offer to help co-workers before they ask
Feed the plants
Leave things more organized than you found them
Invent a moment of silliness
Highlight good work from your peers
Find other great employees to join the team
Cut costs
Help invent a new product or service that people really want
Get smarter at your job through training or books
Encourage curiosity
Surface and highlight difficult decisions
Figure out what didn't work
Organize the bookshelf
Start a club
Tell a joke at no one's expense
Smile a lot.
Now that it's easier than ever to outsource a job to someone cheaper (or a robot) there needs to be a really good reason for someone to be in the office. Here's to finding several.
Live Nation Rules Music Ticketing, Some Say With Threats
Sunday, July 1, 2018

In 2010, when the Justice Department allowed the two most dominant companies in the live music business — Live Nation and Ticketmaster — to merge, many greeted the news with dread.
Live Nation was already the world's biggest concert promoter. Ticketmaster had for years been the leading ticket provider. Critics warned that the merger would create an industry monolith, one capable of crippling competitors in the ticketing business.
Federal officials tried to reassure the skeptics. They pointed to a consent decree, or legal settlement, they had negotiated as part of the merger approval. Its terms were strict, they said: It would boost competition and block monopolistic behavior by the new, larger Live Nation.
"There will be enough air and sunlight in this space for strong competitors to take root, grow and thrive," said the country's top antitrust regulator, Assistant Attorney General Christine A. Varney. And she went further, suggesting that reduced ticket service fees, even lower ticket prices, might be on the horizon.
Ways You Can Defeat Distractions and Win Your Day
Friday, June 1, 2018

"Distractions destroy action. If it's not moving towards your purpose, leave it alone."—Jermaine Riley
Almost everything around you is designed to steal your attention.
That's why it's essential to learn how to shield yourself and develop your ability to focus on command.
You will need to fight off five types of distractions, and below you will find different ways that will help you do exactly that.