ELLIS PAUL MUSIC PICKED FOR FARRELLY BROTHERS BLOCKBUSTER COMEDY, "HALL PASS"
Movie director Peter Farrelly, one half of the Farrelly Brothers, once praised Ellis Paul as "a national treasure". Ellis' songs have appeared in the soundtracks for two previous Farrelly Brothers' movies, "Me Myself & Irene" starring Jim Carrey and Renee Zellweger, and "Shallow Hal" starring Jack Black and Gwyneth Paltrow. The Farrellys have chosen Ellis Paul to come on board for a third time to collaborate in a broader role on the score for their forthcoming release "Hall Pass".

Released on February 25, 2011, "Hall Pass" - starring Owen Wilson and Christina Applegate - showcases nine musical tracks off of Ellis' latest album The Day After Everything Changed. The movie's plot revolves around a married man (Wilson) who is granted the opportunity to have an affair by his wife (Christina Applegate), and you can get a sneak peek via the link to the official movie trailer for "Hall Pass" below.

ELLIS PAUL IN BOSTON GLOBE - TRIBUTE TO DICK PLEASANTS
Ellis was honored to play with a star-studded cast of amazing musicians this Friday, to pay tribute to the legendary Dick Pleasants.

Read on with the Globe to get the scoop on a wonderful night of music!

MAYOR MENINO DECLARED "ELLIS PAUL DAY" IN THE CITY OF BOSTON!
Whereas: Ellis Paul rose out of the competitive Boston music scene to the top of the American singer songwriter world. He is known throughout the country for his literate, provocative songs, non-stop touring and is one of the top modern day troubadours.;

Whereas: After graduating from Boston College, his musical career began in the Boston area open mics and church basement coffeehouses and has flourished with 150 shows annually. He has performed at Carnegie Hall, the Rock And Roll Hall of Fame, his beloved Club Passim and throughout Europe. Ellis' songs are know by fans around the world on radio, TV, in several Hollywood blockbuster movies;

Whereas: Ellis' contribution to music bridged the gap between modern folk sounds and populist traditions and helped ignite a revival in the folk world. He proudly sports a Woody Guthrie tattoo and has even co-written a song with Woody using lyrics from his archives entitled "God's Promise";

Whereas: Ellis was one of the first national artists to start a record label, Black Wolf Records. To date he has recorded 16 CD's, a concert/documentary DVD, and a book of his writing, "Notes From The Road";

Whereas: We will continue to benefit from Ellis' invaluable voice and creativity as his words fill our hearts with love, warmth, and beauty;

Whereas: The City of Boston will always be grateful for Ellis' tireless efforts to help fill Boston with song, improve the music community, and to make our great city a world-class destination on his journey; NOW

Therefore, I, Thomas M Menino, Mayor ofthe City ofBoston, do hereby proclaim Friday, July 9, 2010 to be

ELLIS PAUL DAY


in the city of Boston.

Mayor Thomas M. Menino

Ralph Jaccodine Management's Rebecca Loebe Awarded a 2018 Black Fret Grant!
Thursday, December 13, 2018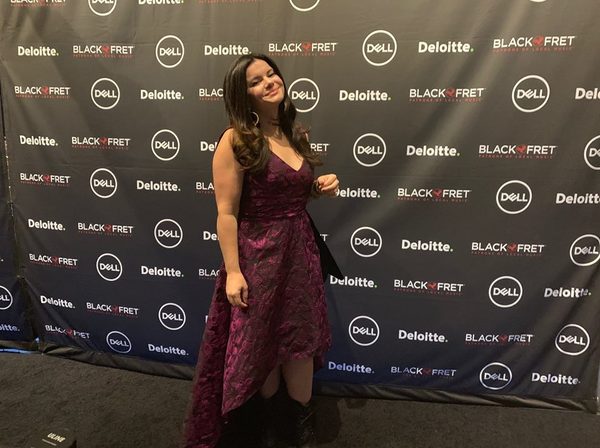 Black Fret awards $250,000 in grants to 20 Austin acts at annual gala


Outside, the rain was coming down in buckets on what was one of Austin's worst weather nights of the year. But inside ACL Live on Friday night at the fifth annual Black Fret Ball, everything was perfect.
Since 2014, Black Fret — a local music patron organization in which members pay a $1,500 annual fee for access to concerts and parties throughout the year — has given more than $1 million to Austin acts. Members nominate 20 artists each year, then attend performances throughout the year and vote on major and minor grant winners announced at the annual December gala.
Here's the list of the 2018 recipients:
$20,000 grants: Donovan Keith, Greyhounds, Los Coast, Jane Ellen Bryant, Jaimee Harris, Wood & Wire, Jeff Plankenhorn, Israel Nash, Shy Beast, Tomar & the FCs
$5,000 grants: Texas KGB, Rebecca Loebe, Dave Scher, Palo Duro, Megafauna, A Giant Dog, Trouble in the Streets, Billy King & the Bad Bad Bad, Otis the Destroyer, Kalu & the Electric Joint
• More photos: A-List gallery from the Black Fret Ball
This year marked a big step up for the Black Fret Ball, with a move from the Paramount Theatre to ACL Live. Increased ticket sales weren't the reason, as the event is not open to the general public. But Black Fret's membership has grown significantly in five years, and the nature of the event's production greatly benefits from ACL Live's more spacious environs.
Most importantly, the venue's stage is large enough to be split into two smaller stage plots. That meant Black Fret nominees could perform back-to-back without any set changes, resulting in a significant streamlining of the show. Past Black Fret galas had sometimes stretched past four hours; this one ran a tight and tidy three hours, plus a half-hour intermission. "We built this (Black Fret) model with this place in mind," co-founder Colin Kendrick said at the start of the event.
Most acts played two songs, keeping the action moving quickly after a 7:15 p.m. start that was slightly delayed to allow for weather-related late arrivals. Between performances, fellow co-founder Matt Ott and various guest presenters, including ACL Live general manager Colleen Fischer and KUTX program director Matt Reilly, announced the grant recipients.
A rousing ovation greeted bluegrass band Wood & Wire after its spirited set, in part because the crowd knew what a big day it had been for the group. Winning a major grant came on the heels of Friday morning's announcement that their album "North of Despair" is up for a Grammy in the Best Bluegrass Album category.
Of this year's 20 grant nominees, 15 performed at the Black Fret Ball. A couple of acts were on tour or had members touring with other groups. Jeff Plankenhorn, playing in Colorado this week, sent back a note that Ott read to the crowd, thanking members for their support and concluding, "I promise not to spend it on that drum machine I've wanted since high school."
After high-powered soul band Tomar & the FCs led a rousing, all-hands-on-deck finale of Sam Cooke's "Bring It on Home" to close out the night at 10:45 p.m., Ott said to all the Black Fret members in attendance, "We're onto something great here. Stick with us."
My Guitar, My Guiding Light - Shun Ng feature in Star2
Monday, March 5, 2018
Once dismissed as a failure because of dyslexia, Shun Ng went on to find his niche in life through music. This guitarist extraordinaire has even caught the attention of multi Grammy-winning producer, Quincy Jones.
By N. RAMA LOHAN
star2@thestar.com.my
"THE next thing I knew, someone was banging on the toilet door. It was my manager, who told me Quincy was talking about me." Shun Ng walked out nonchalantly in an attempt to calm his nerves, but he should have known better. And just as he arrived at the main area where architect Frank Gehry's house party was swinging, he caught the eye of multi Grammy-winning producer, Quincy Jones, who duly introduced him to the audience.
Of course, the two men are no strangers. Ng had performed for Jones at his home upon the music legend's behest, after the octogenarian had watched him in the music video for the song
Get On With It
with Singapore's King Of Swing, Jeremy Monteiro.
Four years on, and that performance by Ng now marks one of many highlights in his young yet chequered career. It's hard to fathom this was the same young man who was once dismissed as a failure because of his dyslexia. The ill-educated perceptions served nothing else but to hurt his confidence.
"I never realised how badly it affected me until later. I grew up with low self-esteem because of it," revealed the Singaporean, who was born in Chicago, the United States.
As a child, though, he at least found a calling in gymnastics. "I was a hyperactive kid, and the one most likely to jump into a sponge pit. But that environment (gymnastics) became too competitive for me, and I began to hate it within a couple of years. My coaches pushed me hard, and my parents felt I should stick to something, but all I was trying to do was quit," he said, ruing the time spent. Naturally, that interest died quickly, even though he persevered for several years – until a friend brought a guitar to the gym one day. That's when everything changed.
In the instrument, Ng found a voice, a calling that would have him dedicate his life to the six-string.
"I felt like there was nothing I could do well at that age, but the guitar changed that. Learning to play that first chord felt like an achievement," he shared, detailing his start as a musician.
That first chord learnt soon led him to learning all the parts on Michael Jackson's Billie Jean, a challenge thrown at him by a friend which he duly took up and accomplished. Did he play it for Mr Jones, then? "No," he responded sheepishly.
A stint at Singapore Polytechnic to pursue an Associate Degree in Music and Audio Technology when he was 16 did little to convince him that formal education was the way forward. Poor results needlessly discouraged him further. "I didn't do well, and it was just a struggle. Reading music was tough, and it made me feel like I would never be good." But even in the throes of despair, the guitar remained his guiding light.
Music not being predominant in his household barely deterred Ng, too, and soon, he was learning the classics by ear.
"I passed off (the Beatles')
Hey Jude
as my own to my dad," said the 27-year-old, with a hearty chuckle, revealing that it was his old man who bought him his first guitar for his 14th Christmas. "Music was an escape, and that's how I became a student of it," he added.
It was the blues that truly turned him on his head, the mournful, rootsy idiom resonating with him like no other.
"Blues is raw, and the way it's played has an intellectual feel. Emoting is important, and though there are only five notes in the blues, I loved it and I dove straight into it."
There's the ill-advised belief that the blues is nothing but an interminable jam session, but Ng disagrees. "People need to listen to the great old stuff, where you can feel the pain in the music and lyrics. For some reason, people are scare to delve into the sorrowful element of the blues," he opined.
Ng, though, dipped liberally into the wellspring of blues influences, absorbing the sounds of Robert Johnson, Sonny Terry & Brownie McGhee, John Lee Hooker, Howlin' Wolf, Muddy Waters and Freddie King. While cutting his teeth in the genre, he was fortunate enough to ply his trade in the club circuit in Chicago, playing with grizzled old hacks and younger musicians alike.
"They taught me that the blues is about being a family. They all treated me like one of them and were so encouraging. They loved the idea of a Chinese kid playing the blues," he said, of the experience.
The flame of desire in him grew exponentially, and in 2012, he released his debut album,
Funky Thumb Stuff
, which even drew the attention of revered guitarist Tuck Andress, of duo Tuck & Patti. The album was also the entry point in him gaining Jones as an audience and fan.
But fate had other ideas for the budding guitar player, and upon the recommendation of Singapore's Cultural Medallion winner, Dr Kelly Tang, he was awarded a scholarship from Berklee College of Music, and was eventually selected for the prestigious Artist Diploma, an esteemed programme for highly recognised musicians.
This educational stint, though, yielded something much more meaningful – being in Boston allowed him to cross paths with 1970s blues rock outfit J. Geils Band's harp player, Magic Dick. Ng and Magic recorded the God Of Father of Soul, James Brown's clas- sic Papa's Got A Brand New Bag, a cool bluesy rendition of the gem.
Ng currently tours with a duo of back-up singers, powerhouses Deon Mose and Angel Chisholm, who are collectively labelled the Shunettes, a moniker clearly inspired by 1960s vocal girl group The Ronettes.
He may still need years to emulate his heroes, but he has certainly set himself on the right path and dug deep into a genre that best represents him.
"I feel nothing has been more satisfying than learning life through music," he said. And based on his meeting with Jones at the elder statesman's home, where they spoke about everything but music ("We talked about life, ribs recipes, culture, architecture ..."), life has already presented him with a perspective that could only serve him well in future.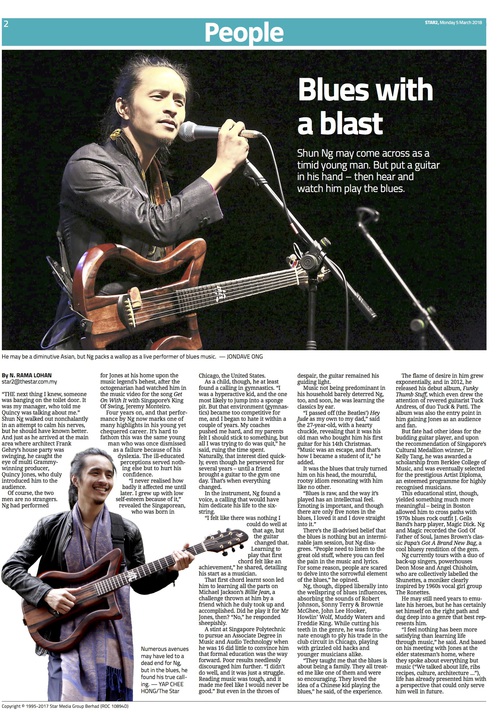 Welcome Pat Pattison!
Thursday, March 1, 2018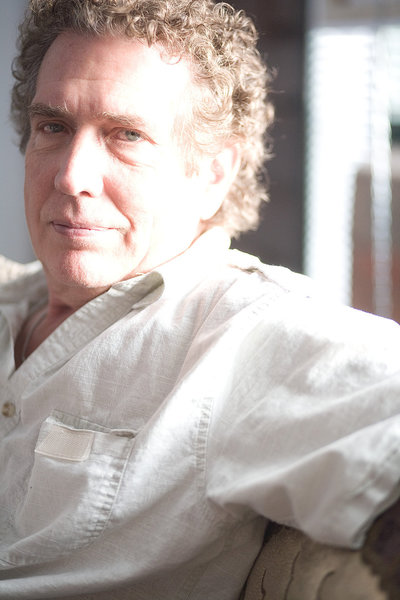 World-renowned songwriter and professor, Pat Pattison, has officially joined the roster!
Pat Pattison is currently a professor at Berklee College of Music, where he teaches lyric writing and poetry.
In addition to his four books,
Songwriting Without Boundaries
(Writer's Digest Books),
Writing Better Lyrics
(Writer's Digest Books),
The Essential Guide to Lyric Form and Structure
(Berklee Press), and
The Essential Guide to Rhyming
(Berklee Press), Pat has developed five online courses for
Berklee Online
: three on lyric writing, one on poetry, and one on creative writing, all available through online.berklee.edu, and more than 1,300,000 students have enrolled in his
coursera.org
MOOC "
Songwriting: Writing the Lyric"
since its first run in 2013. He has written over fifty articles for various blogs and magazines, including American Songwriter, and has chapters in both The Poetics of American Song Lyrics (University Press of Mississippi) and the Handbook on Creative Writing (Edinburgh University Press).
Just recently, Pat's book,
Writing Better Lyrics
, was mentioned in Songwriting Magazine's top 10 books for songwriters in commemoration of World Book Day! You can read the article
here!
Pat continues to present songwriting clinics across the US, Canada, Australia, New Zealand, and Europe. Pat's students include multiple Grammy-winner Gillian Welch, John Mayer, AND Tom Hambridge, Karmin, American Authors, Liz Longley, Greg Becker, Charlie Worsham, and many more.
Ralph Jaccodine visits Harvard Law School
Friday, September 23, 2016
Ralph was on a panel this week at the Harvard Law School for the
Recording Artists Project
. He shared the panel with:
Adam Alpert of Sony Disruptor (behind the #1 song in the country, Chainsmokers)
Mark Jourdian of Nettwerk Music Group (representing Fun, Guster, Father John Misty)
Sickamore of Epic Records (behind the #1 album in the country, Travis Scott)
Antje Duvekot F.A.M.E. Review
Monday, May 30, 2016
Review-F.A.M.E.
Tuesday, March 17th, 2009

The Near Demise of the High Wire Dancer

Antje Duvekot
Black Wolf Records - BW008
Available from Antje Duvekot's online store.

A review written for the Folk & Acoustic Music Exchange
by Roberta B. Schwartz
(rschwart@bowdoin.edu)

Antje Duvekot is destined for greatness. It's there in the way she sings, it's in her phrasing and it's in the way she constructs a song in order to tell a particular story. She has a small girl's vulnerability and a woman's strength. And she sings in a voice that is immediately recognizable—it is an instrument of true beauty.

Her second release, The Near Demise of the High Wire Dancer, delivers on the promise of her earlier work, Big Dream Boulevard. The recording is produced by one of contemporary music's finest singer/songwriters, Richard Shindell. Shindell surrounds and supports Duvekot's perfect vocals with some of the best musicians working today: Duke Levine on electric guitar, Mark Erelli on mandolin and backing vocals, Lucy Kaplansky and John Gorka on harmony vocals and Ben Wittman on drums and percussion, among others.

The CD opens with a captivating song called Vertigo, which Duvekot co-wrote with singer/songwriter Mark Erelli, who contributes mandolin and harmony vocals. It tells the story of the high wire dancer of the album's title. But it's really a metaphor for the risks one takes in life, and especially in love. Erelli shines here as well as producer Shindell on acoustic guitar.

One of the CD's best cuts is Long Way. It's a road song that takes the listener across the country from Michigan to Minnesota, Tennessee to the badlands of South Dakota, to Washington, California and the Arizona desert. It has a wonderful melody and John Gorka on superb backing vocals. It's the perfect song to take with you on the road.

Scream is about the attractive quality of opposites and the ways in which love can become destructive. Duvekot has a lovely higher range to her voice that is employed here to dramatic effect.

The recording closes with a tender children's song in Duvekot's native German called Augen, Ohren, und Herz. Here we have Duvekot, voice and guitar, and that is all we need.

Antje Duvekot possesses something that is very special in this business—a voice that is so pure and has such richness in tone that you can imagine a noisy room becoming silent the moment the first musical notes escape from her lips. Richard Shindell has recognized her unique gift in that he allows her voice and beautifully written lyrics to remain front and center. There are many great talents in the acoustic music world who lend a hand here, but it is Duvekot whom we have come to listen to. The Near Demise of the High Wire Dancer takes us on a journey that has us balancing on the fine line, or high wire between love won and love lost, life lived well and not lived at all, and like a circus, you never know what to expect next. What we do know to expect are great things to come for Antje Duvekot. The Near Demise of the High Wire Dancer is a beautiful work of art. Antje Duvekot has arrived!
WPA on WXPN's World Cafe: Superior Super Group
Monday, May 30, 2016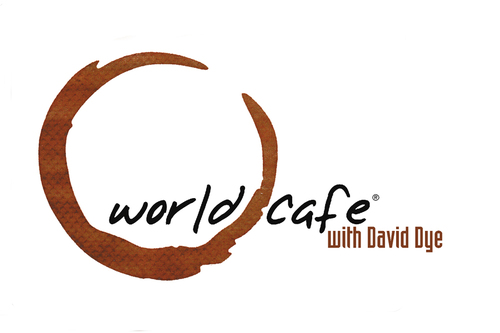 WPA had the honor of performing on David Dye's World Cafe on September 16th. Click the link below to hear why David called WPA a "Superior Super Group".
Ellis Paul's Fan Funded Album
Monday, May 30, 2016
After 20 years of touring and 14 albums, for the first time in 10 years Ellis Paul will be releasing a CD without a record label. With an inexplicable show of generosity, Ellis' fans have helped him raise over
$90,000
to record, manufacture and distribute his yet-to-be released album! The album is slated for Fall release with working title "The Day After Everything Changed", and is currently being recorded in Tennessee under the watchful eyes of Producers Thad Beaty and Jason Collum of
Sorted Noise
, as well as Executive Producer Kristian Bush of Grammy Award winning duo
Sugarland
.
Many thanks to all for the overwhelming support and belief of Ellis Paul's art. Please check out a sample song off the new CD,
"The Day After Everything Changed"
Jack Ingram & Ellis Paul in USA Today
Monday, May 30, 2016
Ingram has 'Big Dreams' for Album

Jack Ingram hasn't chosen a title for his new album, but he knows it'll come out March 17. "There's a song I haven't recorded yet called Big Dreams and High Hopes," says the Texas-based singer/songwriter. "In my mind, that's the working title. But it's not the title yet."

Ingram's 2007 album, This Is It, was the 38-year-old singer's commercial breakthrough, with four top 20 country hits, including the chart-topping Measure of a Man. The new album's first single, That's a Man, is currently in the top 25 of USA TODAY's country airplay chart.

Ingram has written several new songs with Radney Foster, who is producing the album along with Jeremy Stover. The album also will include a cover of Boston singer/songwriter Ellis Paul's The World Ain't Slowin' Down. "It's by far his most popular song," Ingram says. "It'll be fun for me to expose people to a fantastic song from an artist who's had a 20-year career of being a very successful folk artist." Brian Mansfield, USA Today
Ellis Paul in the Boston Globe
Monday, May 30, 2016
Lighters down, checkbooks up
A growing number of musicians are looking to fans, not record labels, to help fund their albums and tours. And giving has its perks.
By James Reed
Globe Staff / April 12, 2009

Ellis Paul, a veteran singer-songwriter who first made his name in New England's folk clubs in the 1990s, found himself in a disconcerting position last year. He had decided not to renew his contract with Rounder Records, his longtime label, but wanted to make a new album.

With no immediate ideas for funding, Paul took a novel approach: He enlisted his fans, posting a letter on his website asking for donations. Since July they've surprised him by contributing more than $90,000 through a Framingham-based online service called Nimbit, along with checks sent in the mail.

"When you're only selling 20,000 or 30,000 records, you don't really need a label," he says. "We figured we could do this in-house, but we just needed the money, and where was the money going to come from?"

In a growing trend reminiscent of the old-fashioned ways of artists and patrons, musicians around the country - including local singers Mieka Pauley, Mark Erelli, Kris Delmhorst, and former Throwing Muses singer-guitarist Kristin Hersh - are depending on their fans for unprecedented financial support. And it's not just limited to American artists. In France, singer-songwriter Grégoire channeled fan funding through the website MyMajorCompany.com and released "Toi Moi," which peaked at No. 2 spot on the French album charts.

Even as the economy deflates and the record industry continues its downward spiral, indie artists are finding that their supporters are eager to help. In a sense, the fans are replacing - or at least augmenting - the traditional role of a label, which previously would have financed the album with a monetary advance and then taken care of the promotion and distribution.

Piano-playing songwriter Seth Glier, who lives in Western Massachusetts, is only 20 but has already built a fan base that supported him on a recent monthlong tour. Through online efforts, Glier raised $2,500, which came in handy as he and a bandmate zigzagged across the Northeast and had to pay for gas, tolls, and the occasional hotel room.

The initial goal was to raise $500, which Glier accomplished within two hours and then kept going. Glier admits it takes a certain caliber of artist to ask fans outright for money. "It was an idea I had a couple of years ago, but I have a really hard time asking for help," he says. "When I was able to unclench my fist, it was great to realize how many people were there for me."

The fans aren't technically just giving money to these artists: They're buying services.

To fund "The Day After Everything Changed," his new album out in the fall, Paul allowed fans to buy different tiers of sponsorship, ranging from $100 (the "Antje Duvekot Level," named after the local singer-songwriter) up to $10,000 ("the Woody Guthrie Level").

The higher the contribution, the greater the goods. For $100, you got an advance copy of the album with a bonus disc of demos and outtakes, along with tickets to one of Paul's shows. For the top-level contributions, of which Paul received a few, fans got several perks - everything from a one-year membership to Club Passim to a signed acoustic guitar to a credit as an executive producer of the album.

One $10,000 contributor, a Boston-based fan who wished to remain anonymous ("People are losing their jobs and homes right now. I don't think it feels sensitive," she explains), says she and her husband couldn't pass up the opportunity to have him write a song for them, one of the perks at their donation level. They even visited Paul in the studio.

"We left feeling that our donation - as well as everybody else's - is in very good hands," she says. "In this day and age, to pull out your pocketbook, it's got to be something pretty compelling."

Karen Zundel, a librarian in Pennsylvania who's been a devoted Ellis Paul fan for 12 years, says she even saved up for her contribution because it held more importance than your typical splurge. "The arts are what sustain us and bring individuals and communities together and help us to connect with our innermost beings," Zundel says. "A new car won't do that. When you buy a new car or a new outfit, you get that little thrill that lasts very temporarily, and then it's gone. But I think art really sustains me. It lasts."

But the way that art gets to the consumer is changing. Dave Kusek, vice president of Berklee College of Music who co-authored the book "The Future of Music: Manifesto for the Digital Music Revolution," says the role of record labels is declining.

"I personally think unless you need massive radio airplay, there's very little reason for record labels to engage with artists anymore," he says. "It's a relic of the past in that artists today can find other ways to get to the market, to get money, to distribute their product in a way where they have a lot more control."

Kusek acknowledges there are pitfalls to blazing a new trail with fan funding, though. "I do think there's some risk if you don't deliver," he says. "Essentially, you are relying on people's trust in you. They're effectively loaning you money in the hopes that they'll get something in return. So if you don't come through, you're running the risk of alienating your fans and eliminating those relationships."

Jill Sobule, who rose to fame in the mid-1990s with the ubiquitous hit "I Kissed a Girl" (long before Katy Perry swiped the topic), recorded "California Years," set for release on Tuesday, with the help of $80,000 from fans after establishing a website, www.jillsnextrecord.com, specifically for the project.

"I know some people say that's a lot to record a record," she says, "but it's also for everything a big label is supposed to do: publicists, marketing, promotions, distribution. I've pretty much used all of it."

Like Paul, Sobule offered various services at different price points. For $10,000 one lucky contributor got to sing on a new song. Sobule says she vetted the idea with her fans first. "That's really important: You leave out the middleman and go directly to the fans and talk to them," she says.

The one thing she hadn't counted on was the level of freedom fan funding brought her, both financially and creatively. "In the old model, you'd have to sell 150,000 albums for people to think you were successful," she says, "and now you don't have to."

"It definitely is humbling," she says of asking fans for money. "I feel like I better do the job for my fans. I better bow down to them more than a record label. They're the ones in control now, in a way."

James Reed can be reached at jreed@globe.com.