Ralph Jaccodine leads industry experts in panel at BCAE / Boston Globe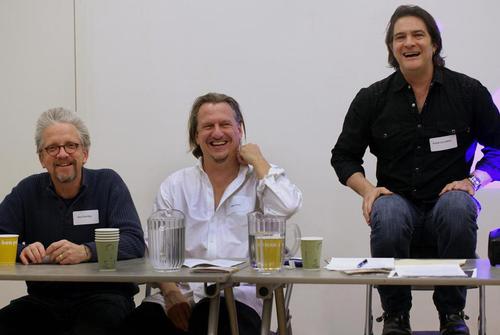 Singer-songwriter Ellis Paul, lead singer of O Positive and Northeastern University School of Law professor Dave Herlihy, and music manager Ralph Jaccodine were just a few of the music industry professionals at Unplugged & Uncensored: An Insider's Guide to the Music Industry at the Boston Center for Adult Education over the weekend.
Ellis Paul update
CHASING BEAUTY
Ellis' new release, which he will bring with him out on the road this summer, is called "Chasing Beauty".
The producer is Kristian Bush from the Grammy award winning, platinum selling band Sugarland.
The Sugarland band was Ellis' backing band with the Red Molly band and others adding background vocals.
The music was recorded in Atlanta Ga. and will be nationally released in September.
Ellis raised over $100,000 from his fans for the recording. A full promotion and marketing team will commence work in June and not let up.
THE HERO IN YOU
September 1st we are re-releasing "The Hero In You" CD which won the Parent's Choice Gold Metal Award.
This CD is coming out along with a beautiful Children's book, released by Albert Whitman Company, a prestigious Children's book publisher out of Chicago.
The Hero in You Video
HONORARY DOCTORATE
Also: Ellis will be the commencement speaker at the University of Maine. The degree that will be bestowed upon Ellis is the Doctorate of Humane Letters honoris causa. He is also writing and performing the school's new Alma Mater.
MAINE MUSIC AWARDS
A month later, Ellis will be inducted to the Maine Music Awards Hall of Fame with: Don McLean, Howie Day, Bob Ludwig/Gateway Mastering and Dave Mallett at the Cumberland County Civic Center on July 12th.
Devonsquare and Carol Noonan are special guests performers.
Ralph Jaccodine announces a new duo... Magic Dick & Shun Ng
I am thrilled to announce the start of an amazing musical collaboration.
Magic Dick, the legendary harmonica player for Boston's legendary J. Geils Band has recently partnered up with guitar and vocal sensation, Shun Ng, to create one of the most dynamic musical acts to come out of Boston in a long time. The music is soulful blues, rockin' yet thoughtful and performed by arguably two of the top musicians at their respective instruments.
Since 1969, Magic Dick has toured the world playing and blowing away clubs and stadiums with the J. Geils Band. He explains the formation of the duo:
"From the moment I first heard Shun Ng's CD "Funky Thumb Stuff" I knew that a manifest musical collaboration was about to happen. Shun's sound simply made me feel very alive and induced in me a synchronous alignment of musical DNA as if it was his intention as well as mine all along! I helped it along by asking his manager, Ralph Jaccodine to introduce us at his office. A long and enlightening conversation happened on that day of our first meeting and now we are a duo and I couldn't be more delighted.
"Shun and I have a deep vibe connection, I know how fortunate I am to have found a true fellow minimalist. Shun's creativity is amazing and his musical skills as a guitarist, singer, and composer are mind blowing. And yes, less is indeed more."
Shun Ng was born in Chicago, raised in Singapore now based out of Boston. At 24 years old, he is already an international star, a soulful, world-class guitarist, vocalist, and electric performer who in a short period of time, has caught the attention of the top players in the music world including Quincy Jones who said: "When you see Shun Ng, you won't believe your eyes nor your ears - he belies all stereotypes, all premonitions. I was simply blown away by both his soul and his science - his creativity and his uniqueness is astounding."
"In this collaboration with Magic Dick," Shun says, "we wanted to make music in a way that no one had quite done before while remaining grounded in our roots. Magic Dick brings a powerhouse attack with ferocious precision and a killer groove to this duo. I have great respect for him, he has seemingly done it all, but is still constantly trying to push the boundaries of music and chase the best in himself, a true artist. To be working with a true Boston legend is a real privilege."
Watch their new video here!
RALPH JACCODINE PANEL AT SxSW, "MANAGING FROM THE TRENCHES"
If you're headed to SxSW, come join Ralph's panel on Friday, March 18th at 12:30pm on Managing from the Trenches.
Ralph will be joined by a veteran group of managers - you can read more on the panel here:
http://schedule.sxsw.com/events/event_MP990229
Ralph will be moderating a panel at the Rethink Music conference.
Ralph will be moderating the panel 'Managers and Artists: Our Perspective', to be held at 5:00 PM on April 26th at the Hynes Convention Center in Boston.
Part of the Rethink Music event, the panel will be a sit down with leading managers and artists for their perspective on the current state of the music industry, what's working for them, and what they foresee in the future.
The panel will be:
Moderator: Ralph Jaccodine (Ellis Paul, Flynn)
Paul McGuinness, (U2)
Mike Mills, (REM)
Bertis Downs, (REM)
Michael McDonald, Mick Management (John Mayer, Ray LaMontagne)
Simon Renshaw, Strategic Artist Management (Dixie Chicks, Clay Aiken)
Mark Kates, Fenway Recordings (MGMT, Mission of Burma)
Be sure to check out this
very cool event!
Ralph Jaccodine Interview - The Future of Artist Management
For all the upheaval that the music business has experienced in the past 15 years, the work and priorities of the artist manager haven't changed that much. "I remember I saw David Byrne speak about the Internet," veteran artist manager Ralph Jaccodine recalls, "and he said that the fact that it's a level playing field doesn't mean anything."
Even though the landscape may have changed, managers remain responsible for two things: hustling up business opportunities for their clients, and exploring ways to augment, supplement and realize those clients' creative visions.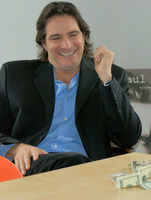 In that sense, the panel that Jaccodine is moderating on Tuesday, Artists and Managers – Our Perspective, is less about looking into the future and more about comparing notes on the present. The strategies and outlook of a panelist like Bertis Downs, who represents REM, are likely to differ considerably from those of Fenway Recordings' Mark Kates, who represents bands ranging from MGMT to Bodega Girls.
We grabbed a few minutes of Jaccodine's time to discuss his upcoming panel, and here's what happened....
You can read Ralph's complete interview with We All Make Music via the link below
ELLIS PAUL MUSIC PICKED FOR FARRELLY BROTHERS BLOCKBUSTER COMEDY, "HALL PASS"
Movie director Peter Farrelly, one half of the Farrelly Brothers, once praised Ellis Paul as "a national treasure". Ellis' songs have appeared in the soundtracks for two previous Farrelly Brothers' movies, "Me Myself & Irene" starring Jim Carrey and Renee Zellweger, and "Shallow Hal" starring Jack Black and Gwyneth Paltrow. The Farrellys have chosen Ellis Paul to come on board for a third time to collaborate in a broader role on the score for their forthcoming release "Hall Pass".

Released on February 25, 2011, "Hall Pass" - starring Owen Wilson and Christina Applegate - showcases nine musical tracks off of Ellis' latest album The Day After Everything Changed. The movie's plot revolves around a married man (Wilson) who is granted the opportunity to have an affair by his wife (Christina Applegate), and you can get a sneak peek via the link to the official movie trailer for "Hall Pass" below.

ELLIS PAUL IN BOSTON GLOBE - TRIBUTE TO DICK PLEASANTS
Ellis was honored to play with a star-studded cast of amazing musicians this Friday, to pay tribute to the legendary Dick Pleasants.

Read on with the Globe to get the scoop on a wonderful night of music!

MAYOR MENINO DECLARED "ELLIS PAUL DAY" IN THE CITY OF BOSTON!
Whereas: Ellis Paul rose out of the competitive Boston music scene to the top of the American singer songwriter world. He is known throughout the country for his literate, provocative songs, non-stop touring and is one of the top modern day troubadours.;

Whereas: After graduating from Boston College, his musical career began in the Boston area open mics and church basement coffeehouses and has flourished with 150 shows annually. He has performed at Carnegie Hall, the Rock And Roll Hall of Fame, his beloved Club Passim and throughout Europe. Ellis' songs are know by fans around the world on radio, TV, in several Hollywood blockbuster movies;

Whereas: Ellis' contribution to music bridged the gap between modern folk sounds and populist traditions and helped ignite a revival in the folk world. He proudly sports a Woody Guthrie tattoo and has even co-written a song with Woody using lyrics from his archives entitled "God's Promise";

Whereas: Ellis was one of the first national artists to start a record label, Black Wolf Records. To date he has recorded 16 CD's, a concert/documentary DVD, and a book of his writing, "Notes From The Road";

Whereas: We will continue to benefit from Ellis' invaluable voice and creativity as his words fill our hearts with love, warmth, and beauty;

Whereas: The City of Boston will always be grateful for Ellis' tireless efforts to help fill Boston with song, improve the music community, and to make our great city a world-class destination on his journey; NOW

Therefore, I, Thomas M Menino, Mayor ofthe City ofBoston, do hereby proclaim Friday, July 9, 2010 to be

ELLIS PAUL DAY


in the city of Boston.

Mayor Thomas M. Menino

Ralph Jaccodine & Rebecca Loebe Featured on Higher Education Today!
Thursday, June 25, 2020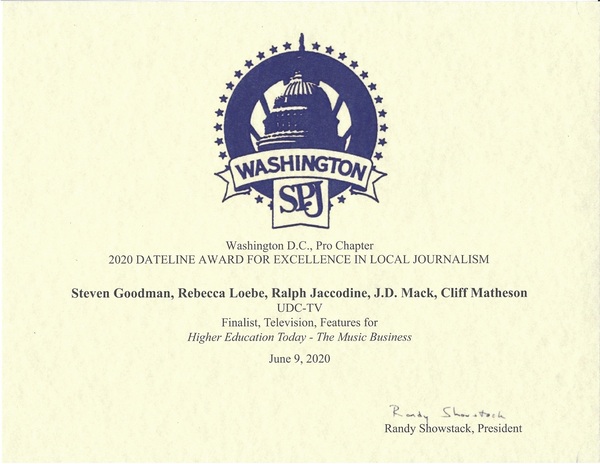 Some exciting news for our team: In November, my client Rebecca Loebe and I went to Washington DC for the taping of an episode for
Higher Education Today.
We were just notified that our segment was named a finalist in the Excellence in Local Journalism Dateline Awards from the Society of Professional Journalists, Washington, D.C. Professional Chapter! Congratulations to Higher Education Today for this accomplishment!
Thursday, May 14, 2020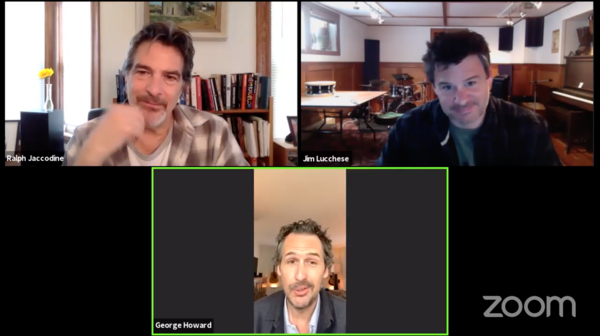 Wednesday, May 6, 2020 @ 4:00pm ET
The Boston Managers Group and Ralph Jaccodine hosted the first virtual meeting meeting, joining forces with the Berklee College of Music Law & Management Club to present a conversation with Jim Lucchese and George Howard.
Thank you to Entrepreneurship and Art for hosting the stream for this event.
Jim Lucchese
joined Sofar Sounds as the CEO in 2019. Sofar Sounds is a global community of musicians and music fans who organize intimate concerts in over 420 cities around the world. Prior to SoFar Sounds, Lucchese was the founding global head of Creator and CEO of The Echo Nest at Spotify. From 2007 to 2014, Lucchese served as CEO of The Echo Nest, from 2007 through its acquisition by Spotify.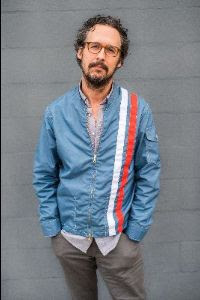 George Howard
is the former president of Rykodisc, independent record label, and cofounder of TuneCore, the world's largest independent digital music distributor.. He also is a columnist for Forbes, and a frequent contributor to the New York Times and many other publications. George is a professor of music business at Berklee College of Music.
About the Boston Managers Group
Twenty-five years ago, Ralph Jaccodine, a Boston based music manager and Tim Collins, the longtime manager of Aerosmith, started the Boston Managers Group. Founded as an organization for managers and music industry professionals it has been a dynamic group associated with some of the top talent in the nation. In the past decade it has expanded to include some of the leading players in the music and entertainment business as well as faculty from colleges such as Berklee, Northeastern, and Harvard
Frank Turner/ Lost Evenings Panel Discussion: Friday at 3pm House of Blues Foundation Room
Wednesday, May 15, 2019
Frank Turner Presents: Panels at Lost Evenings III.

Industry Seminary @ 3:00pm | House of Blues Foundation Room

Industry professionals share their experiences and answer your questions about building a career in the music business.

Moderator: Ralph Jaccodine

Panel: Kelly Kapp, Chris Trovero, Jill Reda, Ben Morse

Produced in association with The Ally Coalition