New Signing: WPA!
Monday, May 30, 2016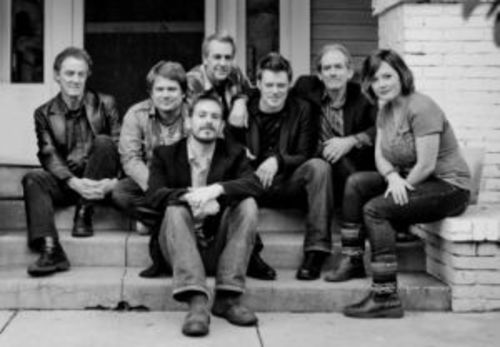 RALPH JACCODINE MANAGEMENT PARTNERS WITH WPA

New Album To Go On Sale Fall 2009
[For Immediate Release – May 2009] Boston, MA – Ralph Jaccodine Management (RJM) is proud to announce that
Works Progress Administration
or
W.P.A.
(
www.wpamusic.com
) will be joining their management roster. Founded in 1992, RJM has worked with some of the nation's top musicians such as: Ellis Paul, Antje Duvekot, Flynn, Adam Ezra Group, Bang Camaro, Martin Sexton, Averi, Vinx and The Push Stars. Black Wolf Records, a 15 year old independent record label started by Ralph and Newbury Comics CEO, Mike Dreese is also run by Ralph Jaccodine Management.
W.P.A. (Works Progress Administration) consists of some of the most prolific musicians in today's music scene. Founding members Glen Phillips (Toad the Wet Sprocket), Sean Watkins (Nickel Creek), and Luke Bulla (Jerry Douglas Band, Ricky Skaggs) have teamed up with Sara Watkins (Nickel Creek), Benmont Tench (Tom Petty and the Heartbreakers), Greg Leisz (Joni Mitchell, Wilco, Sheryl Crow, Beck), Pete Thomas (Elvis Costello and the Imposters, Randy Newman), Davey Faragher (Elvis Costello and the Imposters, Cracker), and long-time acclaimed producer Jim Scott (Wilco, Tom Petty and the Heartbreakers, Rolling Stones) to create the group's highly anticipated forthcoming debut album.
In an era where the expectation is that a "supergroup" is something conceived by business executives, this band came out of an authentic and vibrant musical community, and the album is a beautiful reflection of its origins. W.P.A. was born out of the musical community surrounding the legendary LA club, Largo. The eight members of the band had known and admired each other for years, and found themselves with a strong batch of unrecorded songs, a little down time, and a collective feeling that it might be a good idea to put something on tape.
The album is expected to be released in the Fall of 2009.



Contact:

Ralph Jaccodine, Manager
Ralph Jaccodine Management / Black Wolf Records
(617) 393-9800
www.ralphjaccodine.com

rjaccodine@gmail.com

###

New Music Seminar NYC 2010 : July 19-21
Monday, May 30, 2016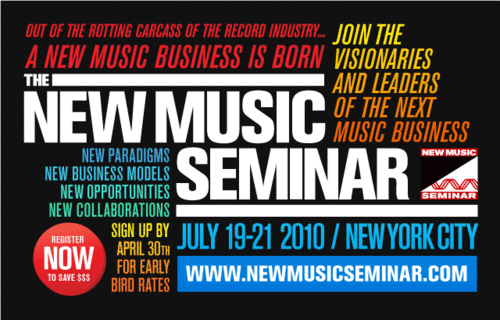 The New Music Seminar began in the 80's and 90's and was the largest music conference in the world, starting all other conferences including SXSW, Canadian Music Week, the Winter Music Conference and others. The NMS is a way to teach artists, managers, agents, labels and others how to maximize fan relationship management, and get to the 300 ticket mark in multiple markets, while at the same time creating change in the industry by working with our partners. The NMS New Music Business Guidebook, given to every attending delegate, is filled with forms, marketing and promotion tips, do's and don't's and other valuable information to help artist's kick start their career.
NMS is happy to announce that after the success and the requests from delegates attending various NMS events last year, especially NMS Los Angeles, which sold out, NMS NYC 2010 will now be extended over two days and three nights from July 19-21, 2010, The Opening Night Party on Monday, July 19th as well as the daily seminars, will be held at M2 Ultra Lounge, located at 530 West 28th Street (between 10th and 11th Streets), with the nightly events on Tuesday, July 20th and Wednesday night's Closing Night Party, July 21st, to be held at Santo's Party House, located at 96 Lafayette Street (one block south of Canal Street). NMS will be adding an additional Movement over the two days, along with "Breakout Sessions", "Lectures" and some surprises that will make this year's event in New York even better.
FOR A LIMITED TIME: 2 FOR 1 DEAL, simply put in code
nmsny10
when registering, and you will get 2 registrations for price of one. $150 early bird rate is only good until April 30th. For more information, please visit the NMS website (below).
ANTJE DUVEKOT Nominated for Best Music Poll '09 - VOTE NOW!
Monday, May 30, 2016
Antje's been nominated for Boston's Best Music Poll '09 Best Female Vocalist -- Please vote your support & pass on to friends!
VOTE HERE!
RJM Signs Adam Ezra Group!
Monday, May 30, 2016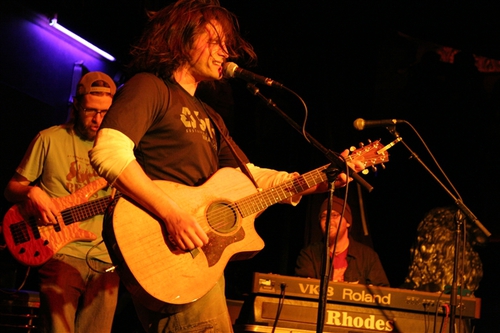 [Boston, MA] – Ralph Jaccodine Management (RJM) announces the signing of Boston-based Adam Ezra Group (
www.myspace.com/adamezra
) to it's management roster. Founded in 1992, RJM has worked with some of the nation's top songwriters such as: Ellis Paul, Antje Duvekot, Flynn, Martin Sexton, Bang Camaro, and The Push Stars. Black Wolf Records, a 15 year old independent record label is also run by Ralph Jaccodine Management.
Adam Ezra is an extremely passionate musician and songwriter. Drawing from his experience of living out of his van, farming in Canada, doing relief work in Kosovo, studying in South Africa, working as a kitchen hand or carpenter, teacher, lacrosse coach, or world traveler, Adam manages to cram it all into the music, always challenging our perspective and often teetering somewhere between the ballsy rocker and sensitive poet
The Adam Ezra Group devotes a good deal of time to community outreach and activism. Their recent schedule is highlighted by spots at the environmentally conscious Rothbury Festival along side Dave Matthews Band and John Mayer, Boston's Earthfest and the Download Festival. Emerging out of Boston, the group's live performances have made them a staple in the Northeast and are continually growing their fan base nationally
"Adam Ezra can write an indelible song from basic folk to classic-rock material...just try to get the melody out of your head." - Boston Herald
"Boston's new voice in acoustic rock"- Boston Phoenix
2015 Boston Music Award nomiations!
Thursday, November 5, 2015
We are excited to announce that out artist, Shun Ng, has been nominated for his third Boston Music Award - International Artist of the Year!!

Also, two of our team members have been nominated for awards - Holly McGarry's band Honeysuckle and Ian Jones' band Grey Season have both been nominated this year.

Congratulations to everyone who has been nominated this year!
Shun Ng signed to Supreme Entertainment
Wednesday, April 22, 2015
Great news from Ralph Jaccodine Management!
Shun Ng, one of my clients, has signed with booking agent Shaun Hague of
Supreme Entertainment
!
After over a decade in the music industry, Shaun Hague has carved quite a path on all sides. Hague has played the part of Touring Sideman (Kenny Wayne Shepherd, John Waite), Writer (Acoustic Guitar, Fretboard Journal), Talent Buyer (Saint Rocke) and the agency world (Monterey International). Now as an agent for Supreme Entertainment Artists, Hague is the RA for many talented acts such as Pat Travers, John Waite, Mike Campbell (of Tom Petty & the Heartbreakers), Freedy Johnston, Meiko, Marie Digby and Shun Ng.
Born in Chicago, raised in Singapore and based out of Boston, Shun Ng (pronounced 'ing') is a fingerstyle guitarist, vocalist and acclaimed international performer known for his unique and virtuosic style which infuses elements of Soul, Funk, Blues and Jazz. Shun dazzles audiences from all over the world with his flamboyant technique, soulful vocals and hypnotic groove. Today he stands as one of the most dynamic and innovative performers, winning accolades from legendary producer, Quincy Jones to fellow fingerstyle virtuoso, Tuck Andress.
"I was dazzled by his technique and captivated by his guitar grooves. Shun's music has that special quality, the dream of all musicians, the natural ability to touch the heart of the listener."
- Tuck Andress (Tuck & Patti)
A year ago, Shun played a sold out show hosted by one of his biggest fans, Quincy Jones, at the Eli Broad Stage in LA. "When you see Shun Ng, you won't believe your eyes nor your ears - he belies all stereotypes, all premonitions. I was simply blown away by both his soul and his science - his creativity and his uniqueness is astounding."
- Quincy Jones
Highlights of his touring have been several sold out shows in his former country of Singapore and Malaysia, a run of five shows at Biscuit & Blues in San Francisco. After his APAP showcase and Rockwood Music Hall show in NYC, Shun played at The Opera House in Boothbay, ME, The Center for the Arts (TCAN) in Natick, MA, and Tupelo Music Hall in Londonderry, NH and has a sold out 2Cellos show at the Berklee Performance Center in Boston, MA in May.
Witnessing Shun's one-man band performance live is an unrivaled experience that is not to be missed.
New Ellis Paul interview with Where Magazine
Tuesday, December 13, 2011
"Boston singer-songwriter Ellis Paul has been composing folk music since 1993. Since then, he's worked his way to the forefront of the local and national music scene with 15 studio albums and another set to release in 2012. He frequently collaborates with Kristian Bush of Sugarland and toured with the Grammy-winning country band for the second time this summer, and he's a favorite of the Farrelly Brothers, who have featured his music in their films "Shallow Hal" and "Hall Pass." This month, Paul wraps up his 20th year making music and sat down with Where to reflect on his career, folk music today, and the fact that he's just as busy as ever." - Leigh Harrington, Where Magazine
Ellis Paul performs with Kristian Bush of Sugarland
Wednesday, November 30, 2011
"Last night, Kristian played his annual Thanksgiving solo show at Eddie's Attic in Decatur, a longstanding tradition performed this year alongside singer-songwriter Ellis Paul. The pair traded songs -- many of which they'd written together -- and told stories of their twenty-year friendship over two shows and close to four hours of music, as the other half of the Bush Brothers, Brandon, contributed accompaniment on piano and accordion." - Sugarlandmusic.com
Read the rest of the blog entry about Ellis and Kristian's show
here
.
Ellis Paul and Amy Black named to WUMB's Top Artists of 2011 List
Wednesday, November 30, 2011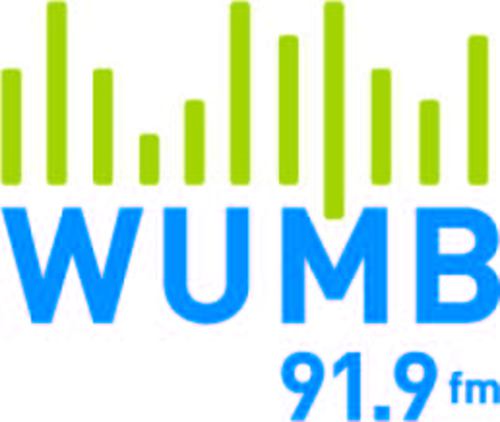 "You voted -- and we've tabulated the votes - all 3,514 of them from 31 states and 6 countries! Ballots were submitted from September 1 - November 7, 2011. Several hundred performers received votes, and several performers have made it to this list for the very first time!" - WUMB.com
88 - Amy Black
12 - Ellis Paul
View the entire list
here
.
Adam Ezra Group Cover Story in the Boston Globe
Wednesday, December 31, 1969
WPA Review on BMF
Antje Duvekot Review on Fish Records
FISH RECORDS

Three years on from her excellent 'Big Dream Boulevard', Antje returns with a new album that is destined to see her rise to the top of the current singer/songwriter scene.

One of the few criticisms of the previous album was that the production was a little too much in places, but that is remedied in some style 'The Near Demise of the High Wire Dancer' which sees Richard Shindell in his first role as a producer. Bringing Shindell to the songs has given the whole album a more gentle, flowing and relaxed feel that suits her though provoking, occasionally dark songs perfectly. These are essentially understated songs that show real insight into social and personal situations, and the lightness of touch in the production helps the lyrical insights land their punches with the listener. The strength of the lyrics is accentuated by Antje's distinct vocals, there's a youthful innocence in her voice that is immediately disarming and easy to listen to.

As well as producing the disc, Shindell's presence is felt on many tracks in the form of immediately identifiable instrumental and vocal work, and the disc also features the talents of Lucy Kaplansky, John Gorka and Victor Krauss.

While her very early self released discs demonstrated her writing talents, the songs here show her development into one of the best contemporary writers around, at times very reminiscent of Patty Griffin, the ten songs here are all excellent, in particular the beautiful 'Long Way', the Griffin-esque opener 'Vertigo', and 'Ragdoll Princes and Junkyard Queens' the most upbeat song on the album.

'The Near Demise of the High Wire Dancer' really delivers on the obvious promise of her previous albums, and the pairing with Shindell has brought the songs alive by taking away the unnecessary in instrumentation and letting her vocals and lyrics speak for themselves. A beautiful album, full of great songs.

Track listing
1 Vertigo
2 Ragdoll Princes and Junkyard Queens
3 Long Way
4 Lighthouse
5 Dublin Boys
6 The Bridge
7 Scream
8 Reasonland
9 Coney Island
10 Merry Go Round