Newport Folk Festival stays fresh with younger and more diverse acts
Tuesday, July 19, 2022
By Molly McCaul
July 19, 2022
This summer, the Newport Folk Festival is in full swing to bring one of the country's premiere music festivals back to New England. From Friday, July 22, through Sunday, July 24, Newport Folk will bring
more than 50 artists
to Rhode Island's Fort Adams State Park for a weekend of live music.
As David Pruett, an ethnomusicologist who teaches at UMass Boston, explains, the festival started decades ago when founder George Wein experimented with adding an afternoon of folk musicians to his already-existing Newport Jazz Festival. Following the immense success of that afternoon, in 1959 Wein expanded it to a whole weekend of folk music.
An annual tradition ever since, the Newport Folk Festival is most well-known as the setting for the infamous 1965 set wherein Bob Dylan
"went electric"
for the first time — to the shock of folk purists. According to Ralph Jaccodine, a professor of music business and management at Berklee College of Music, that wasn't the only surprise Newport has had in store for audiences over the years.
That 1965 set was "when Dylan freaked everybody out," said Jaccodine, a music manager and promoter. "And then 40 years later, Jay [Sweet, Executive Producer and Director of Newport Festivals] books The Pixies, and they go acoustic."
More than 60 years later, the Newport Festivals Foundation is still running both its annual Folk and Jazz Festivals. After pandemic-related cancellations, it's the first time since 2019 that the Newport Folk Festival will have its typical three-day, full-capacity format. Jaccodine attributes the festival's longevity to a "brand" built around the quality of acts they book — it has a tradition of selling out well before its full lineup is announced. "You know if you go to Newport Folk Festival and you don't know who's playing, it's going to be great," Jaccodine said.
A crucial part of the festival is its "spirit of collaboration," as Amelia Meath, of The A's, described it. The A's, a collaborative project by Meath and Alexandra Sauser-Monnig, will make its live performance debut at Newport on Friday. Both are experienced musicians who have previously performed at the festival with their folk trio Mountain Man.
Getting to "[hop] on stage with a whole bunch of incredible musicians" and perform impromptu "without ever having a rehearsal" is, to Sauser-Monnig, part of what makes the folk tradition so unique.
"It's going to be kind of a wonderful collaborative review of all the things that had been released ... as well as seeing old friends and making new friends," Meath said. "That's one of the true gifts of Newport is that, every time I go, I ended up singing so much more than I thought I was going to. And it's always a blast."
The modern construction of folk music, as Pruett put it, goes hand in hand with the commercialization of music at the turn of the century. Once music became profitable, the style and image of what he called old-time music "was changed by folks who were writing those checks," Pruett explained. "Old time had this stereotype of being music from the South, music among white people, music among those mountain-type folks." The music was marketed under the pejorative term "hillbilly music." Artists started curating their stage presence and musical styles to match the commercial mold, leading to "the whiteness of what these genres stood for," says Pruett, while blues artists who didn't fit were categorized as "race records."
Even today, the Billboard Americana/Folk Charts are topped almost exclusively by white artists, a supermajority of whom are men. It takes scrolling to the 20th album on the year-end chart for 2021 until Black Pumas, 2020 Best New Artist Grammy nominees and recent
Boston Calling performers
, break the streak of an otherwise entirely white list with their self-titled 2019 full-length release.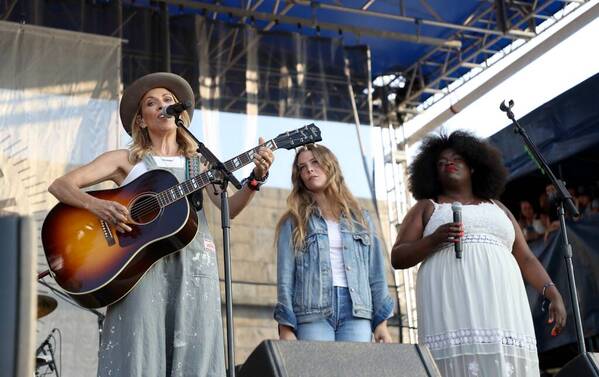 Sheryl Crow, Maggie Rogers and Yola perform as part of the Collaboration during day two of the 2019 Newport Folk Festival at Fort Adams State Park on July 27, 2019 in Newport, R.I.
Mike Lawrie/Getty Images
The most prominent modern example of the impact of racialization in folk music is that of British band Mumford & Sons. The band has, on
multiple occasions
, faced backlash for their affiliation with far-right speakers like Jordan Peterson and Andy Ngo, most recently leading banjoist Winston Marshall to take time away from the band
after he praised Ngo's book
. Frontman Marcus Mumford is slated to perform a charity benefit set in Newport as part of the festival's
after-show series
on Saturday, July 23.
The element of Mumford's music that Pruett was quick to highlight, though, is that the band represents "a full circle of world music history." Combining Irish and Celtic influences, Appalachian folk tradition and the banjo — "which was an African instrument from the west coast of Africa, from Mali," Pruett said — the band, without audiences even realizing, shows a result of centuries of musical migration.
Even beyond Mumford, this year's Newport Folk Festival lineup poses an exciting opportunity for audiences. Jaccodine pointed to this year's "bold" lineup that features non-traditional "folk" groups like The Roots, Dinosaur Jr. and The National.
"For folk music to live we need younger people, we need [a] diverse audience, we need to demonstrate that this quote-unquote 'folk' music can be done [by those artists] because it's storytelling," Jaccodine said.
Despite having such varied musical backgrounds, both exploring other genres through different collaborations many of the other artists featured on the lineup, Meath described The A's album Fruit as "a celebration of folk music that we've loved for years and years, particularly yodeling music." But Meath added that a category like "folk," like the genre label "pop," doesn't have strict boundaries: "Anything that originated from someone seems to be folk music at this point."
Other notable names on the lineup include Arooj Aftab, a Brooklyn-based Pakistani vocalist who was nominated for Best New Artist at the Grammys in 2022 and won for Best Global Music Performance, a new category this year;
Joy Oladokun
, whose most recent release, In Defense of My Own Happiness, explores her identity as a queer Black woman in the United States; and alternative pop band
Japanese Breakfast
, whose frontwoman Michelle Zauner garnered buzz this year for her memoir "Crying in H Mart."