Indie Business Power interview with Ralph Jaccodine
Wednesday, April 12, 2017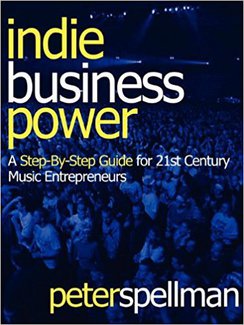 Peter Spellman, author of Indie Business Power, will be publishing a new edition to the book. He recently interviewed Ralph Jaccodine for the new edition.
Q1. I would describe my business as:
A1: Ralph Jaccodine Management is an artist management company with an associated record label, Black Wolf Records. The company was established in 1992.
Q2: How would you describe "entrepreneurship"?
A2: I ask my Berklee students to define this and I get so many unique answers, most having elements I believe are to be true. Risky, tenacious, artistic, creative, self-motivated, self-starter, passionate, focused, driven, impatient - all adjectives I wrap together into the term 'entrepreneurship'.
Q3: In general, which do you consider to be the absolute minimum requirements for successful entrepreneurship in terms of skills and personality traits?
A3: Absolute minimum requirements for successful entrepreneurship for skills and personality traits: successful entrepreneurship requires an 'all in' way of executing. Success comes to those who work harder, have the talent, vision, focus to execute a plan, and wrap that in a blanket of Karma/luck. charismatic people skills, communicator, motivator, visionary.
Q4: Did you write a business plan when you started your company?
A4: When I left the commercial real estate business I was in for a dozen years, I sat down with my friend and mentor, Mike Dreese, a successful entrepreneur who started the retail music chain Newbury Comics. Mike and I wrote 'no assholes' on a napkin and decided whenever possible, not to deal with assholes as we start our business. We then wrote up a simple recording contract for our first artist, Ellis Paul. It was a 50-50 deal, investment, profits and expenses are all shared equally, a simple concept. This relationship and the spirit of this contract are at the basis of a 20+ year relationship with Ellis which stands today as the keystone of my professional career.
Q5: How did you finance the startup phase of your business?
A5: I had an actual dream about starting a record label back in the early 1990's when I was a commercial real estate broker. Later on that day I was showing Mike Dreese, CEO of Newbury Comics some retail space and told him about the dream and blurted out " I want to start a record label and put out Ellis Paul's first CD". I had no experience, no right to be so bold to announce this, but I did. Mike wanted to hear Ellis' music so I played a demo cassette of some songs and he liked the songs. Next he said, 'I'll be your partner, I had a label before." Then about a week later, I got a message from a someone at a church in Lawrence, Ma. I called the number and found out that I won their church raffle of $1000. I barely remembered buying a ticket from a friend's son, and glad I did. I got this check and put in in the bank under a "Black Wolf Records" name. I was off and running from there. Then Ellis, Mike and I put a pile of money into something called a 'recording budget', got a folk legend to produce Ellis' debut CD got it played on some big radio stations, and build our company from there.
The investment of time, passion, sweat and money are equally important. Figuring out how to finance a new venture is vitally important. I was an economics major in college so I loved to study the economics of things. To understand the music business, I learned how to follow the money. How is comes in, how it goes out and how to attract attention/capital. Church raffles, partners, parents, crowdfunding are all legitimate ways to finance a start up. Having skin in the game, ie. my own money at risk, motivated me to make this career move a success.
Q6: What were some initial, unexpected challenges, problems, and development issues you had to face?
A6: Unexpected challenges were everywhere but I took everything in stride. I didn't know any better. I believed in the power of music… nothing was going to stop me from carving out a place at the table for me and eventually my artists. The year I signed my first management client was the year I left real estate, got married and had my first (or two) kids.
Everything was new to me. The lingo, the economics, the culture. I was a quick learner because I had to be. I listened to my heart, in retrospect it was a bold, crazy career shift with risky timing. What mitigated the risk is that I had good business partners in Ellis Paul and Mike Dreese. And strong mentors like Tim Collins who was the long term manager of Aerosmith.
Q7: Are there any overall guidelines you follow to help you manage your business?
A7: Overall guidelines I follow to help manage the business: I started with the credo that music is the most important force I know. It can change lives, move mountains, motivate, heal and inspire this world of ours. Music and it's creators are precious to me and this respect of the power and majesty of music is behind my motivation to work with artists that bring light, healing and inspiration to this planet of ours. I thought this as a kid, I believe in this more today than ever. When I stop believing in the power of music, i'll go to law school or become a dentist.
Q8: What trends (changes on the horizon) do you see unfolding in your line of business over the next five to ten years?
A8: Changes/ trends in the next 5-10 years. The more things change with music monetization and delivery of music, the more things stay the same. The importance of a good song, finding an audience, blowing away a live audience and monetizing it all is the backbone of the artist management business. Facilitating an artist with co-creating a vision for them is exciting. Being on top of the changes to technology, legal issues, cultural shifts and all part of the realization that being plugged into the goings on of this planet is a must. Not just with popular culture and the music business but the bigger picture is always important to understand and monitor.
Q9: Do you ever barter your products, services, or assets with other companies in exchange for their products, services, or assets?
A9. There are direct and indirect ways of bartering what I do. I have 'consulted' with artists for years. Meeting them for a meal which I would buy, helping them, hearing their stories and them, having them fill their notebooks with ideas, plans and proposals I see fit for them. It is why I got into this business to help artists. Then when my experience grew, I was getting the meals paid for me and money exchanged. I have participated in cruises, seminars, conventions, fundraising, non-profits all using my experience and connections to help others. When I realized I have skills that can help others I realize how much of a joy it is to do so. What I get in return is satisfaction that I am helping others. This is a deep satisfaction.
Q11: Which web tools & strategies do you use regularly for improving your internet marketing? (e.g., Google Analytics, Search Engine Optimization, Twitter and other social networking tools, blogging, etc.)
A11. Internet marketing: I took a Entrepreneurial MBA course and learned that most business owners are great at working AT their business, but need to work ON their business as well.
I am constantly seeking out younger, less experienced 'beginners' to bring a 'beginners mind' to what I do. An expert has limited possibilities, when you are a beginner, there seems to be infinite possibilities. There are no rules because they don't 'know any better'. I like that side of the coin.
I have 2-3 college interns working for me at all times and a network of managers, students who I learn from. I read 5-10 blogs daily to seek out trends, lessons and more experience at all things internet marketing. I use social media experiments and technology in a rotating series of tests to grow the reach of my artists.
Q12: As you look back, what do you feel are the most critical concepts, skills, attitudes, and know-how you needed to get your company started and grow to where it is today?
What skills, etc. will be needed in the next five years?
A12. I am constantly learning. I gobble up information from business, sports, music, culture, education, spirituality, design blogs. I read 2-3 newspapers a day and make sure there is a flow of 'experts' I am learning from and being inspired by. I have always been a student successful people and I study success patterns and habits . I keep on thinking of the risk I took in thinking I could carve out a career as an artist manager. I got lucky, I was tenacious, humble and bold all at the same time. I learned how to ask for help, aggregate mentors, role models and teachers. Taking care of my mind, body and spirit will lead me to future adventures. Having the faith that I am on the right path, for the right reasons has kept me going and supports this holy crusade I am on.
Q13: Which subjects that you studied in or out of school have you found to be most helpful to you as an entrepreneur? Why?
A13. I have taken an general Entrepreneurial course at BU after graduation from college, as well as two courses at the Harvard School of Design that had to do with financing, particularly real estate financing. I have have taken independent courses in: negotiation, spirituality and writing as well. Probably the best course I have taken post-undergrad was an Entrepreneurial MBA program, designed for small business owners with experience at running their own business. I was in a class of small business owners running design company, bakers, insurance brokers, and there I was with a musician management company, way out in left field, but with similar needs and desires to work ON my company with like minded business people.
Q14: If you had to characterize your entrepreneurial life in one image, what would it be and why?
A14. Entrepreneurial life… a snapshot of my preparing dinner for two young, hungry kids, trying to be present while the phone is ringing off the hook. Saying no to the phone, feeling like I could do more for my kids, and my clients, yet letting all of this go and realize this is part of the balancing act of running my own business.
Q15: Any thoughts on how you manage to keep a balance between your personal and business lives?
A15. Balance is difficult, but essential. I carve out time for my children, for exercise, friends, family, and remain super efficient with my time. I have systems in place from hiring reliable staff to back me up, and make sure things don't slip through the cracks. I read once that 'if you want to get something done, give it to a busy person for they know how to get things done'. I have always had a lot on my plate professionally with managing artists, teaching at Berklee College of Music, serving on 3 Boards of Directors and being a father to two amazing kids. Time is precious. I Don't waste time, I value my time and know every day is important, and we are not promised another day. If we get another day, I try to honor it by using the time wisely.
Q16: What would you do differently – if you could turn back the clock?
A16. Turn back the clock. I really don't think I would do anything differently. I needed the failure, the struggle, the stress, the rejections. I needed to make mistakes and I try to always make new mistakes, not the same one repeatedly. I live my life as much as I can in the present moment, with an eye towards future adventures. I can't turn back the clock so I don't bother myself with this exercise. What I can change is in the now, and it will be in the future really soon.
Q17: What recommendations would you offer someone considering starting their own business?
A17. Suggestions in starting your own business. Have burning passion for what you are doing. Your reason for starting the business should have something to do with bringing light, making the world a better place to some capacity. Figure out the money side of things. How to attract money, how to use it, budget, negotiation skills, saying 'NO' and people skills all help.
If security is valued, you will have a tough time. If you have tenacity for what you are creating, if you are on a mission, a holy crusade, you are on your way.
Q18: Are there any overall guidelines you follow to help you manage your business?
A18. Guidelines for managing the business. I work as hard as I can for my artists… while keeping perspective and a sense of humor. I surround myself with like minded people who inspire and entertain me. Daily I realize my artists I represent are relying on me for their livelihood, their economic wherewithal. It is an immense responsibility to partner up with an artist for a co-created adventure. I always realize that it is a privilege to have a job/career in the music world. I honor this by my work.
Q19: If you could say one thing about financial management to aspiring entrepreneurs, what would it be and why?
A19. financial management. It is essential to know how money works.