Shun Ng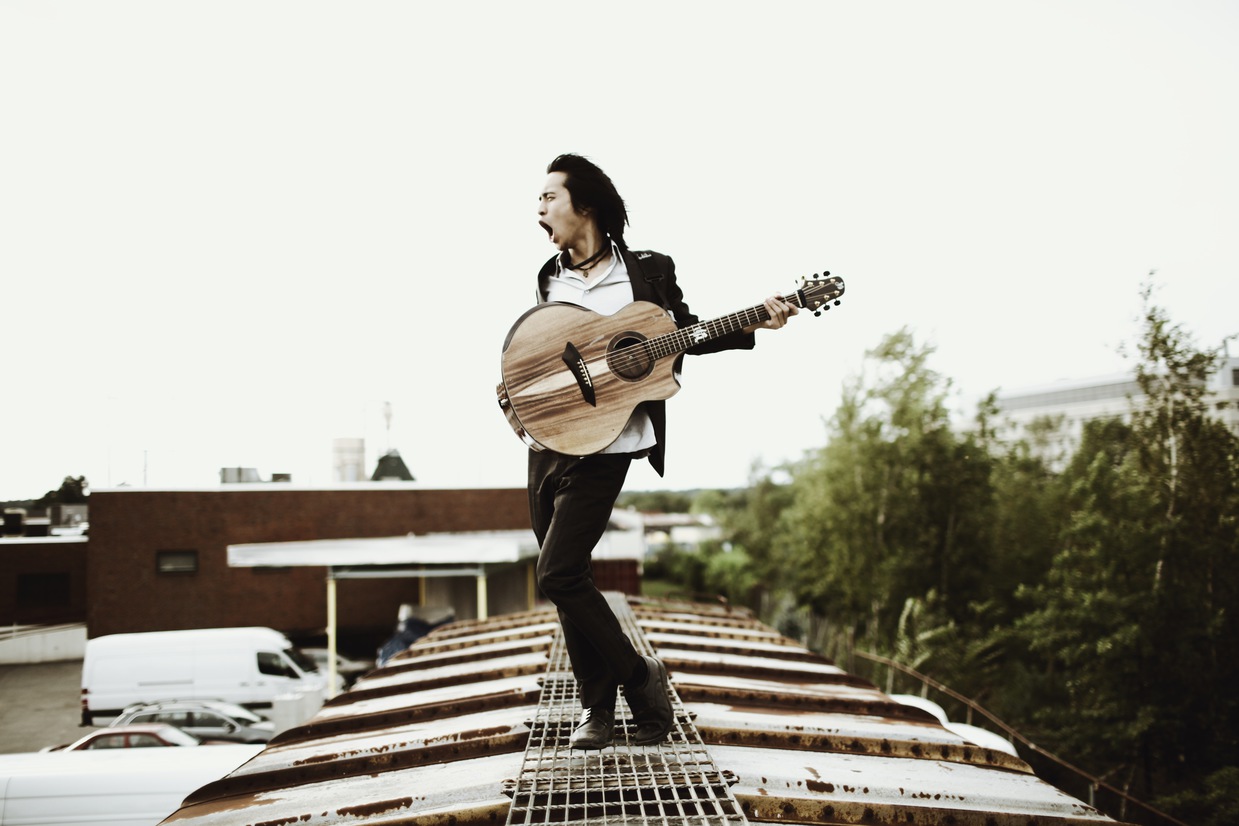 "I was simply blown away by both his soul and his science – his creativity and his uniqueness is astounding."
- Quincy Jones
Shun Ng was born in Chicago, Illinois and was raised in Singapore. Shun grew up in a non-musical family in Singapore and struggled in the rigid and academic-driven education system. At age 8, Shun was diagnosed with dyslexia and faced challenges with reading, languages and mathematics throughout his educational career and was constantly deemed lazy or a failure by his teachers. He turned to gymnastics and competed nationally at the age of 10. In gymnastics at a young age he was brought up in an environment where endurance and perseverance was a necessity but even more so, he was instilled with the determination of striving towards excellence and perfection. When Shun was 14, a gymnastics teammate brought in a guitar to the gym. Shun left the team in the next few days.
For his 14th Christmas, his father bought him a guitar and as his passion grew, Shun finally found a language to understand the world – music. While letters and numbers didn't make much sense, music did. He began diving deeper into the world of music through The Blues. He meticulously studied the legends of the blues world, honing his guitar skills by trading licks with Blues headliners in the legendary Chicago blues bars, dedicating his entire life to the spirit of the music.
Shun decided to leave the traditional high school system at 16, hoping to pursue an Associates Degree in Music & Audio Technology at Singapore Polytechnic, but scored so far below the school's academic requirements that he did not even qualify to apply. Furthermore, the school had already selected their cohort of 42 students for that year. Through a letter of recommendation from Singapore's most renowned composer, Dr. Kelly Tang, the school agreed to audition Shun. After the audition, the admissions committee decided to open a 43rd place for him.


It was during this time that Shun dedicated all his time and energy into discovering his own musical voice. He explored & studied many different genres like Latin, European Classical, Jazz, Funk, Motown & Soul. One day he was challenged by a friend to play all the parts of the famous Michael Jackson song "Billie Jean" simultaneously on the guitar. That challenge sparked an exploration of the endless possibilities of the acoustic guitar and he began pushing the boundaries of techniques and what just one acoustic guitar could produce.After attaining his associate's degree in Music & Audio Technology, Shun served his mandatory National Service and went into the Singapore Armed Forces where he spent two years working as an arranger and band guitarist for the combo band. In these two years he began woodshedding and translating the sounds he had in his head to the guitar. As Shun's style developed, he caught the attention of guitar-making genius Jeffery Yong.
Inspired by Shun's playing, Yong endorsed him as an artist and hand-built him a signature guitar. Although Shun had little industry experience, Yong invited him to perform his guitars at international guitar festivals such as the Montreal Guitar Show, Osaka Guitar Show and the Singapore Guitar Show.
In January 2012, Shun released his debut album "Funky Thumb Stuff" which garnered him national recognition. In that same year, Shun was featured twice in the Asian news network, Channel News Asia and was also invited to perform for the President of Singapore on national television. Later that year, Shun was featured alongside other internationally renowned Jazz artists by Singapore's own King of Swing, Jeremy Monteiro in the Jazzy Christmas concert series. "Funky Thumb Stuff" also came into the attention of veteran Fingerstyle Guitarist, Tuck Andress of Tuck & Patti, who said he was "dazzled by his technique and captivated by his guitar groove" and went on to describe Shun's singing as "well beyond his years yet with the innocence of a child." In that same year, Shun was accepted to Berklee College of Music and awarded a scholarship from the college.
In his second semester, he was selected to be on Berklee's prestigious Artist Diploma, which is a highly selective, two-year individualized program of study designed to provide the highest level of training for musicians who have already distinguished themselves through advanced study and/or have established a promising career in music.
During his first year in Boston, he attracted the attention of Boston Manager, Ralph Jaccodine. Shun performed his first show in the United States, sharing the bill with some of Boston's finest acts one of whom was the legendary Livingston Taylor who said of him "Shun is amazing, his talent rest on a rock-solid work ethic and the results are pure WOW!"
Shun left Berklee after two semesters and signed with Ralph Jaccodine Management.


In May 2013, Shun released a new video, Get On With It. The video soon after came to the attention of 27-time Grammy award winning producer Quincy Jones. Jones then invited Shun to his home in Los Angeles where Shun performed for him in his living room and received high praise from the producer, "When you see Shun, you won't believe your eyes nor your ears -- he belies all stereotypes, all premonitions. I was simply blown away by both his soul and his science -- his creativity and his uniqueness is astounding."
That same year, despite having just entered the music scene, Shun was nominated for "International Artist of The Year" for the 2013 and 2014 Boston Music Awards.
Shun is also very passionate about social justice, his began getting involved in social work at the age of 8 when he went to the slums in Hyderabad, India for mission work. In 2011 he released a Christmas album with all of the proceeds going towards financially supporting college fees of the members from the Lahu Tribe in Chiang Rai, Thailand. He currently serves as the Director of Music at The Amber Initiative, a non-profit organization that deals with issues of social injustices around the world. He also works closely with the Next Step Organization's prgram, SongStudio, who's mission is to empower young people with life-threatening illnesses to envision positive futures, develop strong coping skills, and share their experiences through music.
Magic Dick & Shun Ng "Poppa's Got A Brand New Bag"
Shun Ng performs "Bohemian Rhapsody"