Ralph Jaccodine Management partners with Shun Ng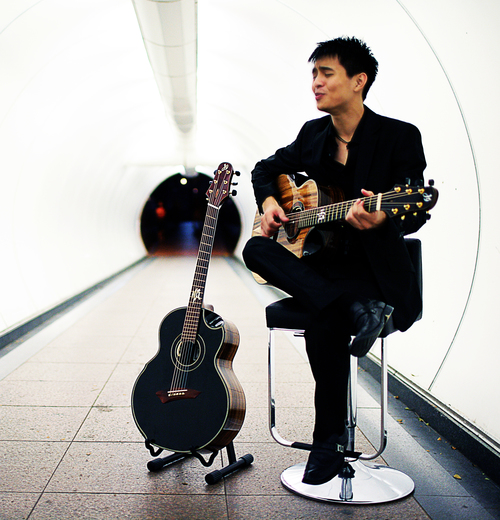 Ralph Jaccodine Management (RJM) is proud to announce that Shun Ng (http://www.ShunNg.com) will be joining their management roster.
Shun Ng is a very gifted 22 year old singer-songwriter born in Chicago raised in Singapore currently enrolled in the esteemed "Artist Diploma" at Berklee College of Music. He is known for his virtuosic and unique style of guitar that infuses elements of Funk, Fingerstyle, Blues, Jazz & Motown, to create a one-man band like experience. His flamboyant guitar work is equally matched with passionate vocal styling seemingly well beyond his years, yet with a light and energy that can only be described as childlike innocence.

In 2012, he released his debut album, entitled "Funky Thumb Stuff" which explores honest stories of his early teen life as well as the rise of his ever-improving guitar pyrotechnics. "Funky Thumb Stuff" was well received by many acoustic guitar lovers and musicians around the world. Shun is a featured performer at some of the top music festivals including: Japan, Canada, Malaysia and Singapore. In fact, at a recent show in Boston Shun shared the stage with Livingston Taylor who said of him, "Shun Ng is amazing. His talent rests on a rock-solid work ethic and the results are pure WOW!"

To see Shun perform is to truly understand the level of his talent, so I'm including two video links here, one is the official video for his title track, "Funky Thumb Stuff", and the other is from the recent performance I mentioned in Boston, at a Red Star Studios event for Boston Beyond Borders, playing a track entitled, "Slam!"