Ellis Paul's "The Hero in You" Wins GOLD Parents' Choice Award!
Wednesday, April 25, 2012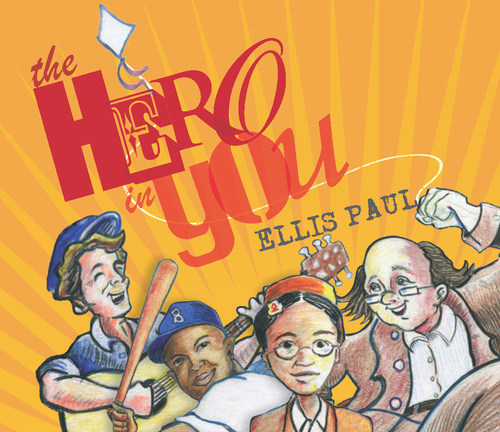 Since 1978, the Parents' Choice Foundation strives to provide parents with reliable information about tools to help their children learn, to explore new challenges, to discuss ideas and to pursue dreams. Their experts navigate the huge array of children's media to award a select few with their highest honor of being chosen a 'Parents' Choice'. A GIANT Congratulations to Ellis Paul's "The Hero in You", chosen for the Gold Parents' Choice Award!!
Ralph Jaccodine leads industry experts in panel at BCAE / Boston Globe
Wednesday, January 25, 2012
Singer-songwriter Ellis Paul, lead singer of O Positive and Northeastern University School of Law professor Dave Herlihy, and music manager Ralph Jaccodine were just a few of the music industry professionals at Unplugged & Uncensored: An Insider's Guide to the Music Industry at the Boston Center for Adult Education over the weekend.
RALPH JACCODINE PANEL AT SxSW, "MANAGING FROM THE TRENCHES"
If you're headed to SxSW, come join Ralph's panel on Friday, March 18th at 12:30pm on Managing from the Trenches.
Ralph will be joined by a veteran group of managers - you can read more on the panel here:
http://schedule.sxsw.com/events/event_MP990229
Ralph will be moderating a panel at the Rethink Music conference.
Ralph will be moderating the panel 'Managers and Artists: Our Perspective', to be held at 5:00 PM on April 26th at the Hynes Convention Center in Boston.
Part of the Rethink Music event, the panel will be a sit down with leading managers and artists for their perspective on the current state of the music industry, what's working for them, and what they foresee in the future.
The panel will be:
Moderator: Ralph Jaccodine (Ellis Paul, Flynn)
Paul McGuinness, (U2)
Mike Mills, (REM)
Bertis Downs, (REM)
Michael McDonald, Mick Management (John Mayer, Ray LaMontagne)
Simon Renshaw, Strategic Artist Management (Dixie Chicks, Clay Aiken)
Mark Kates, Fenway Recordings (MGMT, Mission of Burma)
Be sure to check out this
very cool event!
Ralph Jaccodine Interview - The Future of Artist Management
For all the upheaval that the music business has experienced in the past 15 years, the work and priorities of the artist manager haven't changed that much. "I remember I saw David Byrne speak about the Internet," veteran artist manager Ralph Jaccodine recalls, "and he said that the fact that it's a level playing field doesn't mean anything."
Even though the landscape may have changed, managers remain responsible for two things: hustling up business opportunities for their clients, and exploring ways to augment, supplement and realize those clients' creative visions.
In that sense, the panel that Jaccodine is moderating on Tuesday, Artists and Managers – Our Perspective, is less about looking into the future and more about comparing notes on the present. The strategies and outlook of a panelist like Bertis Downs, who represents REM, are likely to differ considerably from those of Fenway Recordings' Mark Kates, who represents bands ranging from MGMT to Bodega Girls.
We grabbed a few minutes of Jaccodine's time to discuss his upcoming panel, and here's what happened....
You can read Ralph's complete interview with We All Make Music via the link below
ELLIS PAUL MUSIC PICKED FOR FARRELLY BROTHERS BLOCKBUSTER COMEDY, "HALL PASS"
Movie director Peter Farrelly, one half of the Farrelly Brothers, once praised Ellis Paul as "a national treasure". Ellis' songs have appeared in the soundtracks for two previous Farrelly Brothers' movies, "Me Myself & Irene" starring Jim Carrey and Renee Zellweger, and "Shallow Hal" starring Jack Black and Gwyneth Paltrow. The Farrellys have chosen Ellis Paul to come on board for a third time to collaborate in a broader role on the score for their forthcoming release "Hall Pass".

Released on February 25, 2011, "Hall Pass" - starring Owen Wilson and Christina Applegate - showcases nine musical tracks off of Ellis' latest album The Day After Everything Changed. The movie's plot revolves around a married man (Wilson) who is granted the opportunity to have an affair by his wife (Christina Applegate), and you can get a sneak peek via the link to the official movie trailer for "Hall Pass" below.

ELLIS PAUL IN BOSTON GLOBE - TRIBUTE TO DICK PLEASANTS
Ellis was honored to play with a star-studded cast of amazing musicians this Friday, to pay tribute to the legendary Dick Pleasants.

Read on with the Globe to get the scoop on a wonderful night of music!

MAYOR MENINO DECLARED "ELLIS PAUL DAY" IN THE CITY OF BOSTON!
Whereas: Ellis Paul rose out of the competitive Boston music scene to the top of the American singer songwriter world. He is known throughout the country for his literate, provocative songs, non-stop touring and is one of the top modern day troubadours.;

Whereas: After graduating from Boston College, his musical career began in the Boston area open mics and church basement coffeehouses and has flourished with 150 shows annually. He has performed at Carnegie Hall, the Rock And Roll Hall of Fame, his beloved Club Passim and throughout Europe. Ellis' songs are know by fans around the world on radio, TV, in several Hollywood blockbuster movies;

Whereas: Ellis' contribution to music bridged the gap between modern folk sounds and populist traditions and helped ignite a revival in the folk world. He proudly sports a Woody Guthrie tattoo and has even co-written a song with Woody using lyrics from his archives entitled "God's Promise";

Whereas: Ellis was one of the first national artists to start a record label, Black Wolf Records. To date he has recorded 16 CD's, a concert/documentary DVD, and a book of his writing, "Notes From The Road";

Whereas: We will continue to benefit from Ellis' invaluable voice and creativity as his words fill our hearts with love, warmth, and beauty;

Whereas: The City of Boston will always be grateful for Ellis' tireless efforts to help fill Boston with song, improve the music community, and to make our great city a world-class destination on his journey; NOW

Therefore, I, Thomas M Menino, Mayor ofthe City ofBoston, do hereby proclaim Friday, July 9, 2010 to be

ELLIS PAUL DAY


in the city of Boston.

Mayor Thomas M. Menino

Ralph Jaccodine visits Harvard Law School
Friday, September 23, 2016
Ralph was on a panel this week at the Harvard Law School for the
Recording Artists Project
. He shared the panel with:
Adam Alpert of Sony Disruptor (behind the #1 song in the country, Chainsmokers)
Mark Jourdian of Nettwerk Music Group (representing Fun, Guster, Father John Misty)
Sickamore of Epic Records (behind the #1 album in the country, Travis Scott)
Antje Duvekot F.A.M.E. Review
Monday, May 30, 2016
Review-F.A.M.E.
Tuesday, March 17th, 2009

The Near Demise of the High Wire Dancer

Antje Duvekot
Black Wolf Records - BW008
Available from Antje Duvekot's online store.

A review written for the Folk & Acoustic Music Exchange
by Roberta B. Schwartz
(rschwart@bowdoin.edu)

Antje Duvekot is destined for greatness. It's there in the way she sings, it's in her phrasing and it's in the way she constructs a song in order to tell a particular story. She has a small girl's vulnerability and a woman's strength. And she sings in a voice that is immediately recognizable—it is an instrument of true beauty.

Her second release, The Near Demise of the High Wire Dancer, delivers on the promise of her earlier work, Big Dream Boulevard. The recording is produced by one of contemporary music's finest singer/songwriters, Richard Shindell. Shindell surrounds and supports Duvekot's perfect vocals with some of the best musicians working today: Duke Levine on electric guitar, Mark Erelli on mandolin and backing vocals, Lucy Kaplansky and John Gorka on harmony vocals and Ben Wittman on drums and percussion, among others.

The CD opens with a captivating song called Vertigo, which Duvekot co-wrote with singer/songwriter Mark Erelli, who contributes mandolin and harmony vocals. It tells the story of the high wire dancer of the album's title. But it's really a metaphor for the risks one takes in life, and especially in love. Erelli shines here as well as producer Shindell on acoustic guitar.

One of the CD's best cuts is Long Way. It's a road song that takes the listener across the country from Michigan to Minnesota, Tennessee to the badlands of South Dakota, to Washington, California and the Arizona desert. It has a wonderful melody and John Gorka on superb backing vocals. It's the perfect song to take with you on the road.

Scream is about the attractive quality of opposites and the ways in which love can become destructive. Duvekot has a lovely higher range to her voice that is employed here to dramatic effect.

The recording closes with a tender children's song in Duvekot's native German called Augen, Ohren, und Herz. Here we have Duvekot, voice and guitar, and that is all we need.

Antje Duvekot possesses something that is very special in this business—a voice that is so pure and has such richness in tone that you can imagine a noisy room becoming silent the moment the first musical notes escape from her lips. Richard Shindell has recognized her unique gift in that he allows her voice and beautifully written lyrics to remain front and center. There are many great talents in the acoustic music world who lend a hand here, but it is Duvekot whom we have come to listen to. The Near Demise of the High Wire Dancer takes us on a journey that has us balancing on the fine line, or high wire between love won and love lost, life lived well and not lived at all, and like a circus, you never know what to expect next. What we do know to expect are great things to come for Antje Duvekot. The Near Demise of the High Wire Dancer is a beautiful work of art. Antje Duvekot has arrived!
WPA on WXPN's World Cafe: Superior Super Group
Monday, May 30, 2016
WPA had the honor of performing on David Dye's World Cafe on September 16th. Click the link below to hear why David called WPA a "Superior Super Group".
Ellis Paul's Fan Funded Album
Monday, May 30, 2016
After 20 years of touring and 14 albums, for the first time in 10 years Ellis Paul will be releasing a CD without a record label. With an inexplicable show of generosity, Ellis' fans have helped him raise over
$90,000
to record, manufacture and distribute his yet-to-be released album! The album is slated for Fall release with working title "The Day After Everything Changed", and is currently being recorded in Tennessee under the watchful eyes of Producers Thad Beaty and Jason Collum of
Sorted Noise
, as well as Executive Producer Kristian Bush of Grammy Award winning duo
Sugarland
.
Many thanks to all for the overwhelming support and belief of Ellis Paul's art. Please check out a sample song off the new CD,
"The Day After Everything Changed"