Justine Ferland
Justine came to Ralph Jaccodine Management over six years ago in the most traditional of fashions for many people who end up in the music business.

She graduated with a degree in psychology, yet knew this was not her calling. (We all know how a psych degree comes in handy working with musicians, and partially why she was hired.) Like many people who end up in the music business, Justine is driven by the love of music and sought out an internship position with RJM in 2007. Two years later, in true tradition of earning success in the business...she earned her lumps and stripes (handling the day to day for a 19 piece rock and roll band can get you there quickly.) It was clear that she was in it for the long haul and has contributed greatly; learning along the way, she has proven to be a huge asset to the company.

Justine is now on board full time as Vice President, and has had the opportunity to work closely with Bang Camaro, WPA (Glen Phillips, Sean Watkins), Johnny A., Ellis Paul, Flynn, Antje Duvekot, Amy Black, Lizanne Knott, Shea Rose, Peyton Tochterman, and the Adam Ezra Group.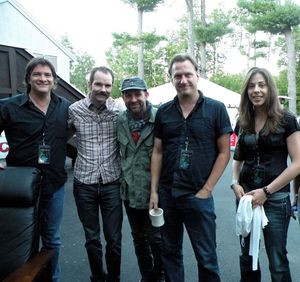 [Ralph Jaccodine, Sugarland's Brandon and Kristian Bush, Ellis Paul and Justine Ferland, backstage at a Sugarland show.]